PLACEMENT
REPORTS
Our placements report reflects our commitment to bringing more transparency and professionalism to the entire placement process.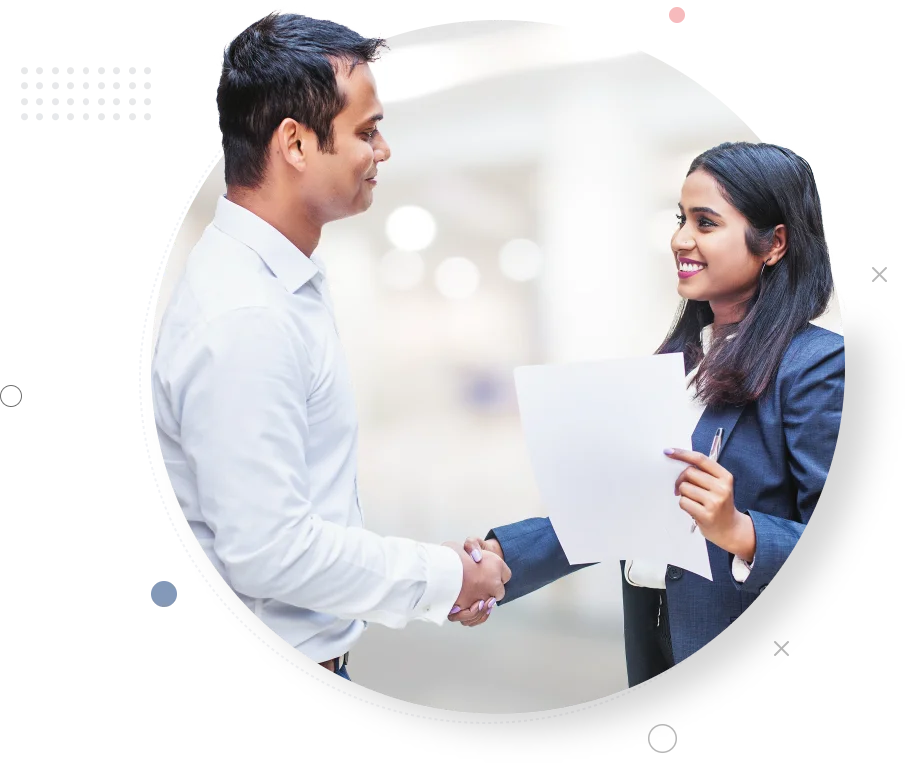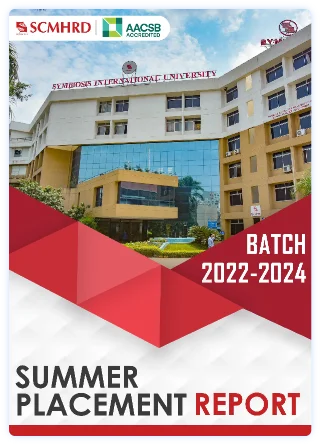 2022-2024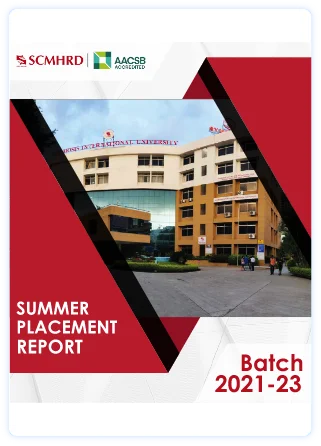 2021-2023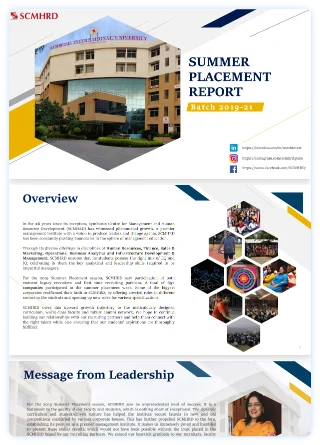 2019-2021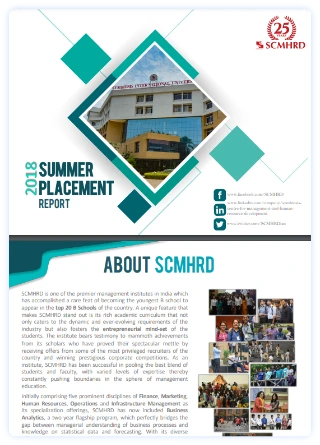 2018-2020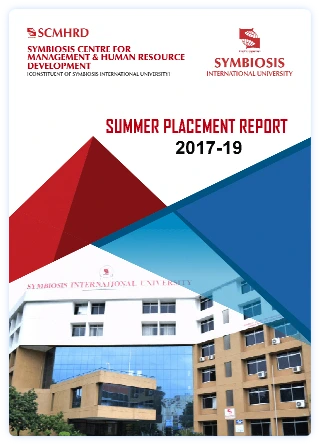 2017-2019
Summer Placements Report 2016-2018
SCMHRD – Summer Placement Report for the batch of 2016-18
SCMHRD has yet again put together a phenomenal Summer Placement Season and continued its strong legacy as the youngest premier business school to be ranked amongst the Top 20 in the country.
As a testament to the quality of students and SCMHRD's noteworthy industry standing, Summer Placements for the 2016-18 batch of SCMHRD witnessed a record number of job offers secured by students across different verticals such as FMCG/ FMCD, Consulting, E-commerce, BFSI, Telecom, Manufacturing and Technology, Information Technology, Pharmaceutical, Infrastructure, etc.
More than 50 recruiters visited the Campus during the Placement week placing 90 % of the batch. Industry bigwigs like Colgate Palmolive, HUL, P&G, Dabur, Perfetti Van Melle, Titan, Aditya Birla Group, GE, Genpact, Arcesium, Capgemini, Cisco, Honeywell, Castrol, HSBC, ITC, JPMC, L'Oreal, Philips Lighting, Philips Health-Tech, Development Bank of Singapore, Goldman Sachs, Pidilite, Reliance, Vodafone, Yes Bank, Cummins, Idea, IBM, Wipro amongst many others participated during the week.
This season also saw new recruiters like Godrej Consumer Products Ltd., Danone Nutricia, EY, Boston Scientific, Samsung R&D, Aon Hewitt, HSBC, Maersk Line, Sun Pharma, Volvo Eicher, Apollo Munich reflecting industry's growing faith in SCMHRD and its talent pool.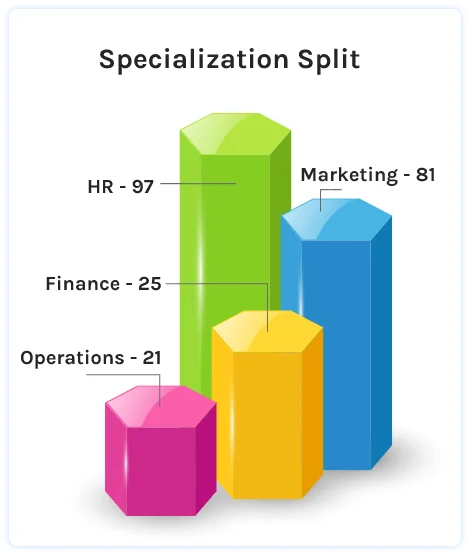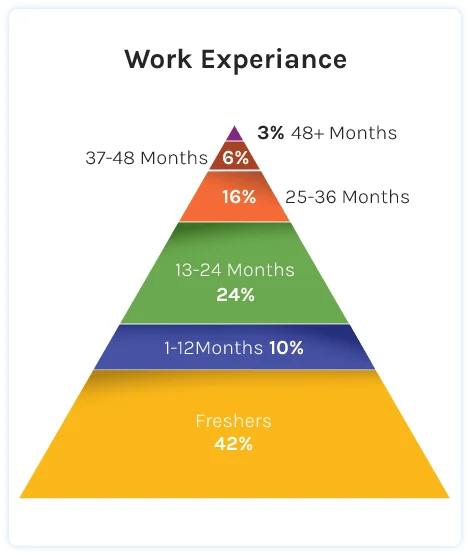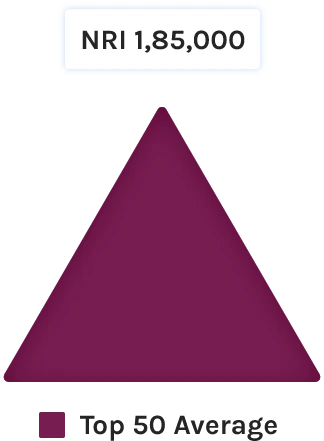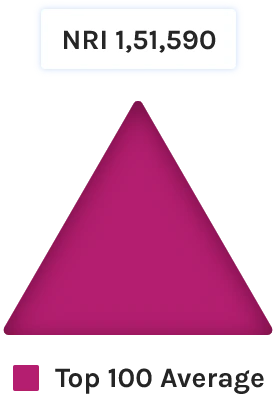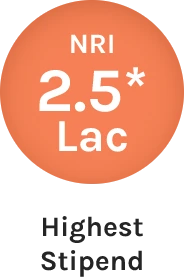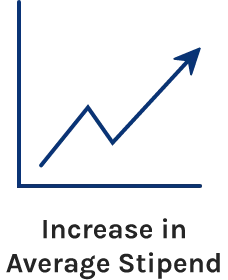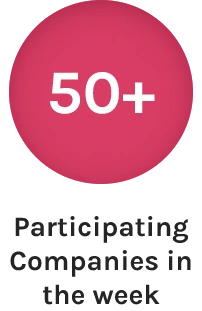 Putting up an exemplary performance, this year saw a 36% increase in average stipend, setting a new benchmark. With the highest stipend emerging as INR 2.50 lac and an average stipend of INR 1.14 lac for the 2016-18 MBA batch, SCMHRD fortified its reputation as a premier B-school.
Key Statistics
Sector Wise Offers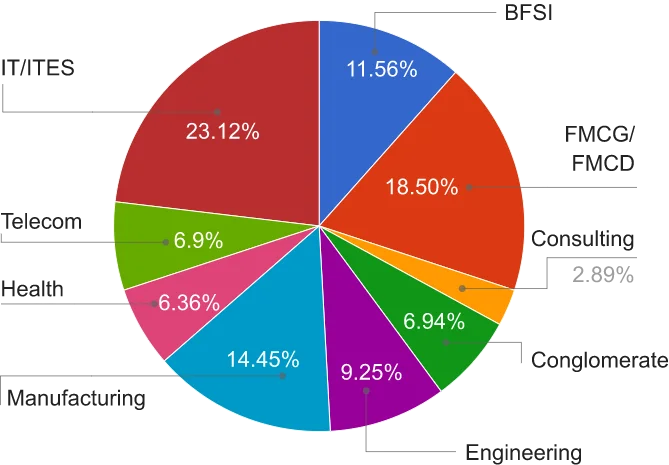 | Specialization | Highest Stipend* | Average Stipend* |
| --- | --- | --- |
| HR | ₹ 2,50,000 | ₹ 1,17,500 |
| Marketing | ₹ 2,50,000 | ₹ 1,06,000 |
| Finance | ₹ 2,47,800 | ₹ 1,39,371 |
| Operations | ₹ 1,50,000 | ₹ 70,625 |
Batch Average Stipend :
INR 1,14,400
* Stipend mentioned is for entire 2 months duration
The Batch of MBA 2015-17 also put up a laudable and praiseworthy performance by securing an impressive 50+ PPOs from distinguished business houses such as ITC, P&G, HUL, ABG, Colgate Palmolive, Yes Bank, JP Morgan, Capgemini, Pidilite, Goldman Sachs, Philips, Wipro, Cummins, Genpact, Vodafone, Honeywell, Arcesium, Titan, IBM, Indus Valley Partners Pvt. Ltd., & HSBC













2014-2016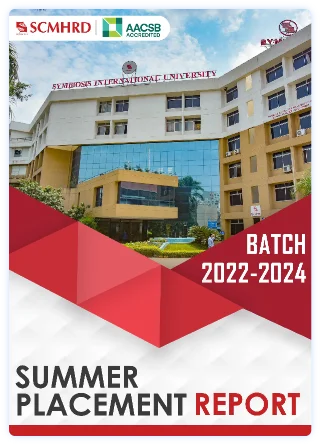 2021-2023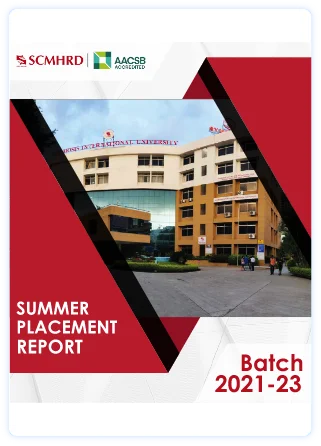 2020-2022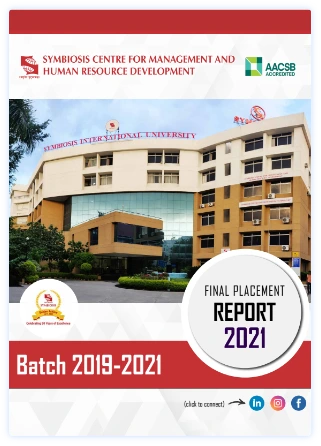 2019-2021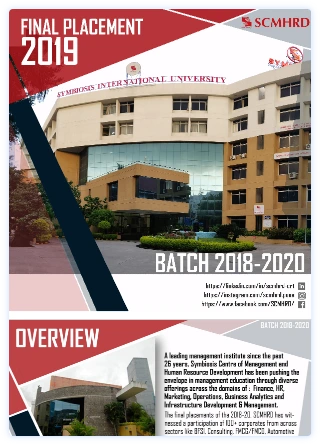 2018-2020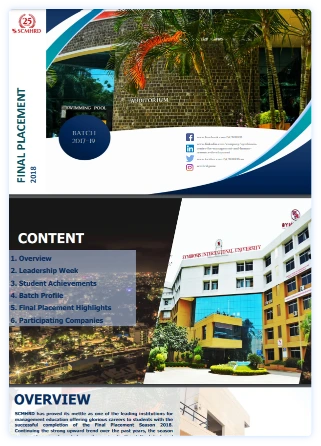 2017-2019
2016-2018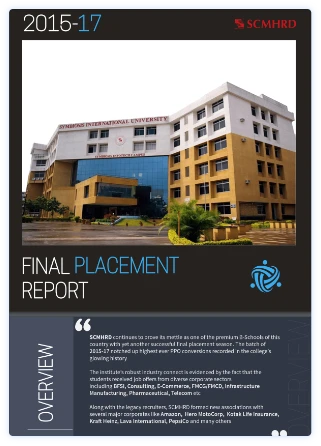 2015-2017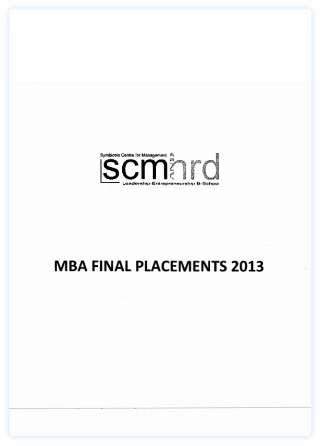 2011-2013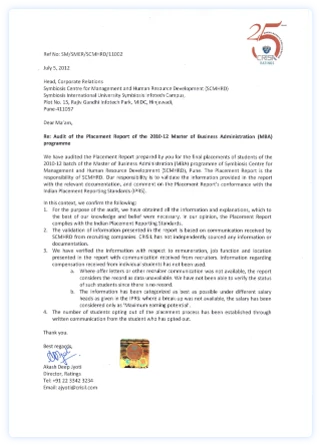 2010-2012
SCMHRD Interim Final Placement Highlights – 2014-2016
SCMHRD, once again beat expectations and raised the bar with the Final Placement Season 2015-16. SCMHRD witnessed stellar placements, both in terms of the compensation and the wide variety of profiles on offer. SCMHRD being one of the most trusted and revered B-Schools in the country witnessed the participation of premier business houses and corporates in this year's Final Placements.
The Batch of MBA 2014-16 also saw an increase in number of PPO/PPIs reflecting the industry's growing faith in SCMHRD's MBA Programme and its talent pool. SCMHRD scaled new heights by placing around 90% of the batch in the placement week.
Along with traditional business houses like Aditya Birla Group, Bajaj Auto, Capgemini, Citibank , Ernst Young, Honeywell, HUL, HSBC, ITC, JPMC, L'oreal, Mahindra, Mercer, Piramal group, Philips, Pidilite, Reliance, Vodafone, Yes Bank, etc. SCMHRD also formed new associations with several major corporates like Bharti AXA General Insurance, Colgate Palmolive, Cipla, Ferrero, HT Media, Gallup Consulting, Godrej, ShopClues, Vedanta Resources etc.
SCMHRD Batch Profile 2014-16
20% of the MBA 2014-16 batch received Pre-Placement offers and Pre-Placement Interviews from prestigious business houses like Aditya Birla Group, Cisco, Cummins, Dell, Deloitte Consulting, Glenmark Pharma, GSK-CH, HUL, HSBC, HCL, Interglobe, Idea, JP Morgan Chase, L'oreal, Mahindra, Perfetti Van Melle, PWC, Pidilite, Tata Motors, Titan, Wipro etc.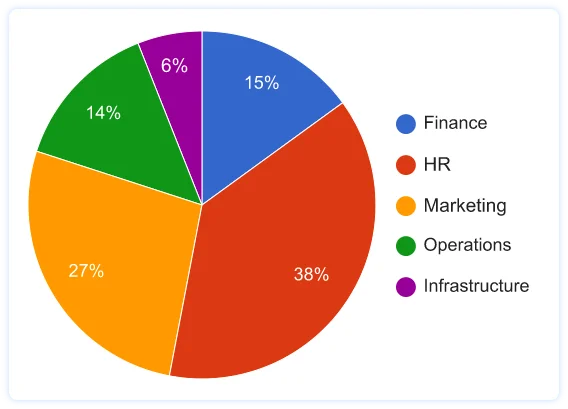 Specialization Split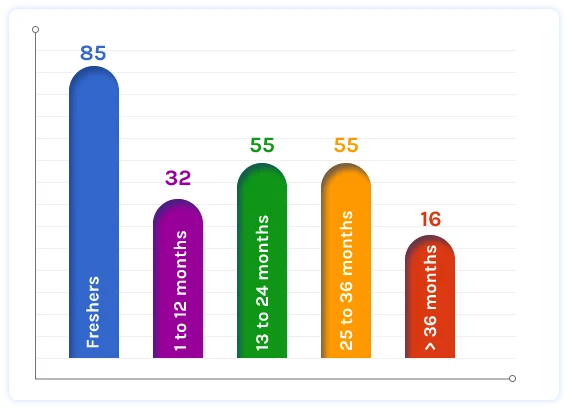 Previous Work Experience Split
Key Highlights of Final Placement Season 2015-16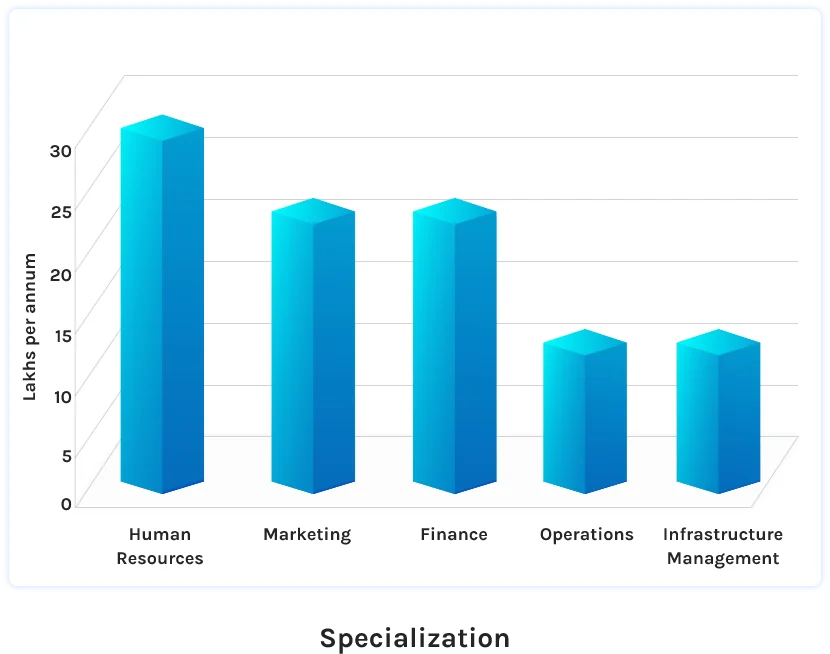 Key Highlights
Average Package (CTC)*
13.24 LPA
Highest Domestic Package (CTC)
22.60 LPA
Top 50 Average (CTC)
17.71 LPA
Top 100 Average (CTC)
15.60 LPA
No. of recruiters
81
No. of PPO/PPLs
47
No. of Offers made
212
Sector Wise Recruitment Break Up
The fact that Final Placement Season 2015-16 saw enthusiastic participation from varied sectors of the industry like Conglomerate, FMCG, Manufacturing, IT, E-Commerce, Consulting, BFSI, Infrastructure, Logistics, Pharmaceuticals etc. stands as a testimony to SCMHRD's reputation as one of the most sought after B-Schools in the country today.
MBA Human Resources Specialization
Average CTC Offered
13.37
Profiles Offered
HR Consulting, Industry Relations, Learning &

Organization Development, Talent Acquisition,

Compensation & Benefits, Talent &

Performance Management
MBA Marketing Specialization
Average CTC Offered
13.63
Profiles Offered
Brand Management, Marketing, Sales &

Distribution, Marketing Analytics etc.
MBA Finance Specialization
Average CTC Offered
12.38
Profiles Offered
Investment Banking, Corporate Banking, Credit Rating,

Corporate Finance, Equity Research,

Risk Management and Commercial Banking.
MBA Operations Specialization
Average CTC Offered
12.38
Profiles Offered
Supply Chain Management, Procurement and

Production Management, Process Manager,

Business Analyst, IT Consulting etc.
Alumni Advantage:
The prominent alumni of the institute extended generous support and played a pivotal role in bringing some of the marquee brands to the campus. Their help and assistance helped SCMHRD spread its wings in different sectors and helped our students to bag coveted profiles. We are thankful to our alumni for extending us continuous patronage.
*Note – The above data is subject to audit.
Corporate Relations Team (2015-17)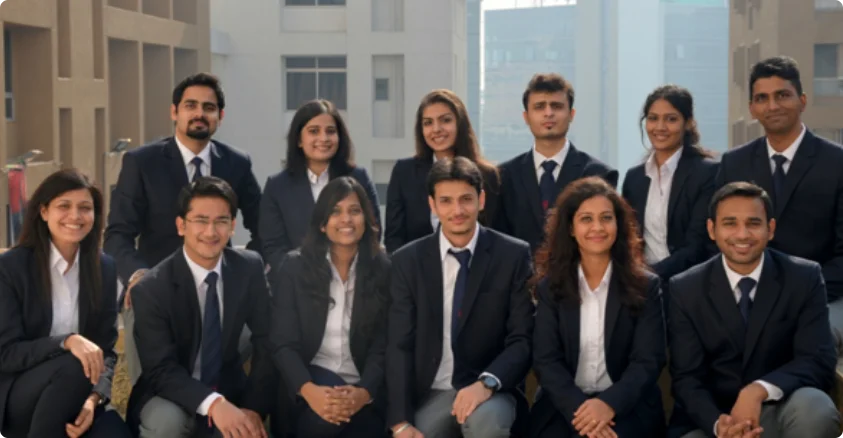 The audited reports of Final Placement
LIVE PROJECTS
2021-2023
2020-2022
2019-2021
| Name of the Organization / Company | Scope of the Project |
| --- | --- |
| Urban Company | Talent management |
| Aditya Birla Group | HR, Talent Acquisition, Talent Management |
| Amrop India Private Limited | Business Analytics, Corporate Governance and Ethics |
| Avery Dennison | HRM, Talent Management |
| Budding Analyst | Financial Risk Management |
| Country Holidays Inn & Suites (CHIS) | Social Media Analyst, Social media marketing |
| DCM Shri Ram | Marketing Analytics |
| Dialogues Media | Marketing |
| Diffr | Digital Marketing, Visual Analytics |
| Earlysalary | Visual Analytics |
| Engineer's Cradle | Marketing analytics, Business Forecasting |
| FedEx | Marketing Analytics |
| Finalatics | Financial Management, Financial Statement Analysis, Human Resources, Infrastructure Analytics |
| Fincrux Technologies LLP | Basics of Financial Management |
| FrontRow | Spreadsheet Modelling, Marketing Analytics, Digital Marketing |
| GAO Tek Inc. | Human Resources |
| Garrett Motion | Market Research, Qualitative Research, Competitive Benchmarking, |
| General Mills | Human Resources |
| Godrej Properties | Marketing – Pre-Sales |
| Gorewo | Talent Acquisition |
| Growupp | Talent Acquisition |
| HR Analytics | HR Analytics |
| Ingersoll Rand | Market Research |
| INSAID | Integrated Marketing Communication |
| ITC Limited | Brand Management, Competitive Benchmarking |
| Juno Terra Pvt Ltd | Visual Analytics, Data Mining, Data Visualization and Modeling, Database Technologies |
| KPMG | Machine Learning, Tableau, Data Mining |
| Kyro | Business Research Methods |
| Learnify.Today | HR Analytics, Data Mining, Advanced Machine Learning |
| Lenskart.com | Human Resources |
| Maersk Line Pvt. Ltd. | International Trade and Logistics |
| MarchingSheep, Pune | Human Resources |
| Mealawe | Brand Management, Digital Marketing |
| MENTORSITY | Talent Acquisition And Relationship Management |
| MTAB Technology Center Private Limited | Visual Analytics |
| National Institute of Bank Management | Strategic management |
| PhonePay GigIndia | Marketing |
| RecruitNXT | Talent acquisition |
| Royal Enfield | Visual Analysis & Machine Learning |
| Saniverse Environmental Solutions LLP | Infrastructure development and management |
| Shararat | Marketing |
| SK Associates & Group | HR – Recruiting |
| Skilled Sapiens | Consulting, Marketing, Product Management, Digital Marketing, Talent Acquisition, Performance Management, Learning & Development, Employer Branding, Industry oriented tools & techniques |
| Tata Consumer Product Limited | Learning and Development |
| Tata Steel Limited | Machine Learning, Data Mining |
| Tenhard | Marketing and Sales Analytics |
| The Sparks Foundation Singapore | Machine Learning |
| Titan Company Limited | Employer Branding, Improving Brand Perception |
| Trailytics Services Private Limited | Data Visualization using power BI Dashboards, Database technology, Spreadsheet modelling, Analytics Foundation, |
| UdhaarLo Pvt Ltd | Project Management |
| UHPIL | Trade and Logistics, Supply Chain |
| Ultratech | Talent Management |
| Union Bank of India | Salesforce & Channel Management |

Name of the Company
Scope of project
3EA
Digital Marketing, Business Analysis
AarbIT Consultancy
Talent Management: Employee Engagement in remote working
ABB
Strategic Human Resource Management
Adani
Talent Management/ Acquisition
Aditya Birla Fashion & Retail Ltd. (ABFRL)
Talent Management
Aditya Birla Hoursing Finance Limited(ABHFL)
Human Resources : Talent Acquisition and Performance Management
Adret Retail Pvt. Ltd. (Kapiva)
Brand Management
Avanse Financial Services
Talent Acquisition
Ayurvet
International Projects and Marketing
BAHETI SALES CORPORATION
Marketing : Market Research and Strategy
Berkadia
HR Analytics, Performance Management System, Talent Management, Talent Acquisition
BharatAgri
Digital Marketing
BlitzJobs
Talent Acquisition, Recruitment,HR operations
Bolstart
Market Research, Talent Acquisition
Boult Audio
Marketing – Sales & Distribution
Canara Bank (T) Ltd
Finance – Commercial Banking
Catalytics Datum
Business Analytics – Data Science
CDS Infra Projects Ltd
Project Management Suite, Contracts and Claims Management
Central Railway Solapur
Human Resources – Payroll Operations
Circular AnglePrivate Limited
HR
CMS IT Service
Business Analytics – Machine Learning, Supply Chain Analytics
Crazy For Success Foundation
HR
Credoc Fintech
Wealth Management, Business Analytics and Digital Marketing
Crompton Greaves
Digital Marketing – E-commerce catalogue management
CSA Advisor
HR
De9to Pvt Ltd
Project Management, Strategic Management, Marketing Strategy
Dev Training and Management service Center,
HR
Digi Daftar
HR
Dynam EV Technologies Pvt. Ltd.
Digital Marketing
Emids
HRBP Operations
Envestnet Yodlee
HR – Talent Acquisition
Ernst & Young (EY)
HR – Talent Acquisition
eSamudaay
Strategy Management and Brand Management
Exeliq Tech Solutions Private Limited
HR – Learning and Development
FIME
Talent Management
Finlatics
Finance – Investment Banking
Food for Marketeers (FFM)
HR – Talent Acquisition, Performance Management System
Frentic Retail and Marketing Pvt Ltd
HR- Employee engagement
Future Generali India Insurance Company
Marketing – Digital Marketing
FutureBridge Consulting
Business Research Methods, Market Research
General Electric
Marketing – Design & Branding
Glocal Private Limited
HR – L&D, Talent Management
Godrej Agrovet
Talent Management, L&D,
Godrej Consumer Products Limited
HR – Performace Management
Godrej Industries Limited
HR – Performace Management
Godrej Properties Limited
HR- Talent Acquisition, Talent Management
GoodSpace
Marketing – Sales & Marketing
Gramener technology solutions Pvt. Ltd
HR – L&D, Talent Management
Grant Thornton
Marketing – Brand Management
Integrated Marketing communication
B2B Marketing
Greaves Cotton
Marketing – Brand Management
Green Building Products, Pune
Supply Chain Analytics
GRIP Sparks Foundation
Data Science & Business Analytics
Halliburton
Marketing Strategy
Hilti India Pvt. Ltd.
Marketing – Market Research
HONO (SequelOne Solutions Pvt ltd.)
HR – Performance Management System, Talent Management, Talent Acquisition, Learning & Development
Hovers, Pune
Business Analytics and Development
HP Inc.
Talent Management
HP World – Shriram Computer
Marketing – Marketing Strategy
iFortis
Talent Acquisition
IIFL Securities
Finance – Security Analysis and Portfolio Management
iMocha
Learning and Development
Indian Oil Corporation Ltd.
Learning and Development
Ingersoll Rand
Marketing – Market Research & Analytics
ITC
HR – Compensation & Reward Management,Training and Development
Jaypore E-commerce Pvt Ltd- ABFRL
Talent Acquisition
Jio Creative Labs
Digital & Marketing, Sports and Entertainment Marketing
JointValues
Project Feasilibity and financing
Keya Foods
Digital Marketing
KFin Technologies Pvt. Ltd.
Talent Acquisition
KPMG, India
Infrastructure – Advanced Project Feasibility and Financial Engineering, Public Private Partnership
KRG Strategy Consultants Private Limited
Project Management
Krosfit Sports
Marketing – B2B Marketing
Lechler India
HR – Strategic HRM, L&D
LetsGrowMore
Business Analytics – Data Analysis
Lumenci (Cipher Research Private Limited)
HR – Talent Acquisition
Lupin
HR – PMS, Talent Management
Maakichen
Marketing – Digital Marketing, Market Strategy
Manpower Group Services India
HR – Leadership & capacity Building, Talent Acquisition
MAW Enterprises
HR – Learning & Development
Medlife Foundation
Marketing
Meesho
HR – Talent Acquisition
MilkinOats
Brand Management
Music, Culture and Art
Brand Research
Nakoda Opticals
HR
Natures Basket
Near Store
Marketing – Business Research Methods and Retail Marketing
NeatFox Interactive Media Solutions
Marketing Analytics
Nestle India
HR – Talent Acquisition
OLX Autos
Digital Marketing, Supply Chain Management
Omdena Inc.
Advance Machine Learning
Pack Planet
Marketing Research
Peoplestrong Technologies Pvt. Ltd.
Marketing – Brand Management & Product Management
Pepperfry
Digital Marketing – E-Commerce
Phoenix Global
HR – HR Consultancy
PNC Infratech Ltd.
Infrastructure – Contracts and claim Management, Project Feasibility and financing
Rashtriya Ispat Nigam Limited, Visakhapatnam
HR
Rebel Foods Pvt. Ltd.
HR – Performance Management System, Strategic Management
Reliance Industries Ltd.
Marketing Research
Renault India
Fuel Economy
Rexona India
HR Analytics, Performance Management System
Safari Industries India Ltd
HR – Learning And Development
Samagra Foundation
Human Resource
Sarkari School(NGO)
Talent Acquisition
SBI Mutual Funds
Finance – Research
Searce Inc
Talent Acquisition
Sesa Care Private Limited
Marketing – Market Research, Brand Management, Social Media Marketing
Shri Shiva Tex
Talent Strategy for MSME
SHRI SIDDHIDATRI ENGITECHS
Contracts and claim Management, Project Feasibility and financing, Operations Research
Signify
Talent Management and HR Analytics, Project Management
Signzy Technologies
Pvt. Ltd.
Financial Analytics- Risk modeling
Solvent Protocol
Digital Marketing
Sonchiraiya
Digital Marketing
SunSymbiosis
Marketing Strategy, Market Research and Sales Prospecting
Swiggy
Digital Marketing
SYSTRA
1. Project Execution Planning and Control
2. Project Risk Management
3. EPC Project Procurement and Commissioning
4. Roads, Highways and Bridges
5. Railways and Freight Corridor Development
6. Public Private Partnerships
Tata Consumer Products
Marketing Strategy
Tata Power Delhi Distribution Limited
Project Feasibility and Finance, Renewable Economics
Tata Sky
Analytics
Tathwamasi Consulting
Project , Strategic Management
Tatsam Wellness
Business to Business Marketing Brand Management Market Research
Tech Mahindra Limited
Supply Chain Management, Project Feasibility and Financing
Tech-Shlok
Technocolabs
Business Analytics – Machine Learning, Data Science
The Coca-Cola Company
Learning and Development, Performance Management System
The Sparks Foundation
Business Analytics – Data Science, Machine Learning
Thermax Limited
Marketing – Business to Business Marketing , Brand Management
Titan Company Ltd
HR
Trailytics
Digital Transformation
Trell
Talent Management, Talent Acquisition
Tricky Digital
Digital Marketing
TVS Motors
HR Analytics, Talent Management, Performance Management System
Universal Tribes
Talent Acquisition
UpGrad Jeet
Talent Acquisition,Talent Managemen
UPL
Global Business, Talent Management
Urban company
Business Analytics and BRM
USPI Consulting Private Limited
Market Research & Strategy Development, Business Research Methods
Vardhan Consulting Engineers
Infrastructure – Project Feasibility and Financing
Videojet Technologies Pvt. Ltd.
Consumer Behaviour
VisionIndia Software Exports Limited
Talent Acquisition
Whirlpool Corporation
HR – Compensation and Benefits

| Company | Scope of the Project |
| --- | --- |
| 21North | Human Resources |
| ABC Consultants | Finance |
| Aditya Birla Insulators | Human Resources |
| AIMO technologies | Marketing |
| Bizmind.in | Marketing |
| BlewMinds | Human Resources |
| Brand awareness and outbound calling | Marketing |
| CHRO Nexus | Human Resources |
| Consulting Connoisseurs | Human Resources |
| Counsel Lab | Marketing |
| Hershey's Kisses | Marketing |
| CultStone | Marketing |
| Diageo India | Marketing |
| Digital Worms | Marketing |
| Ecom Express Private Limited | Marketing : Strategic Management , Business Forecasting, Services Marketing , Consumer behaviour, Sales & Marketing |
| Explore Beyond | Human Resources |
| bmSAY foundation | Marketing |
| GoDesi | Human Resources |
| HCCB | Talent Management |
| Hitech Ferrous & Non Ferrous India Pvt Ltd | Infrastructure Management |
| Impetus 360 | Marketing : Sales and Marketing |
| Indegene | Human Resources |
| India Smart Grid Forum | Infrastructure Management |
| InsideIIM | Human Resources |
| ISGF | Infrastructure Management |
| Johnson and Johnson | Human Resources |
| Kansai Nerolac Paints | Human Resources |
| Key2iq | Human Resources |
| KPMG | Business Analytics |
| Kraftshala (Hershey's & Mamaearth | Sales & Marketing |
| Litifer | Business Analytics : Data Mining, Mobile Analytics |
| Management Consultants on Human Capital | Human Resources |
| Mars Global Corporate | HR : Talent Management |
| Medtoureasy | Business Analytics |
| Mother Dairy | Marketing |
| Netomi | Human Resources |
| OSI VISA & IMMIGRATION CONSULTANTS | Strategy Management |
| Peacock Solar Pvt Ltd | Business Analytics, Human Resources |
| Perfetti Van Melle | Human Resources |
| Prep Junction | Human Resources |
| Quikr.com | Project Execution, Planning and Control |
| RateGain | Human Resources |
| redBus | Infrastructure Management |
| RPG | Human Resources |
| TSLP | Marketing : Sales strategy |
| Securon Electronics | Marketing |
| Source Advisory Services Pvt. Ltd | Infrastructure Management |
| Tata Steel | Human Resources, Marketing |
| Telenity India | HR : Performance Management |
| Trariti Consulting | Integrated Marketing Communication & Data Mining |
| Triedge Solutions Private Limited | Business Analytics |
| VARDHAN CONSULTING ENGINEERS | Infrastructure Management |
| Woovly | Human Resources |
| Worley ECR | Infrastructure Management |
| Zeta Better world technologies Pvt Ltd | Human Resources |