Colloquium'22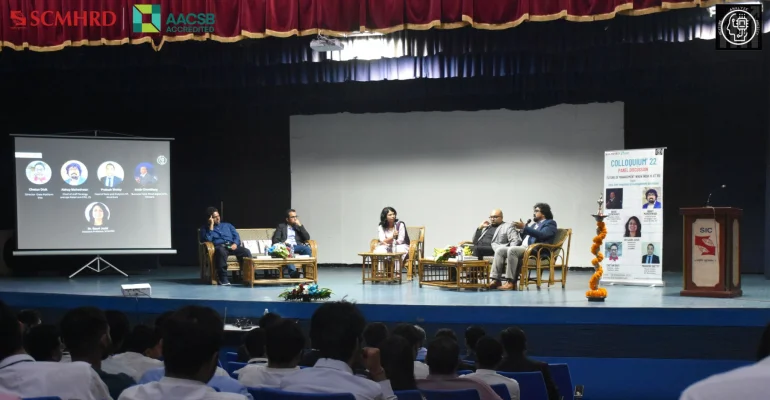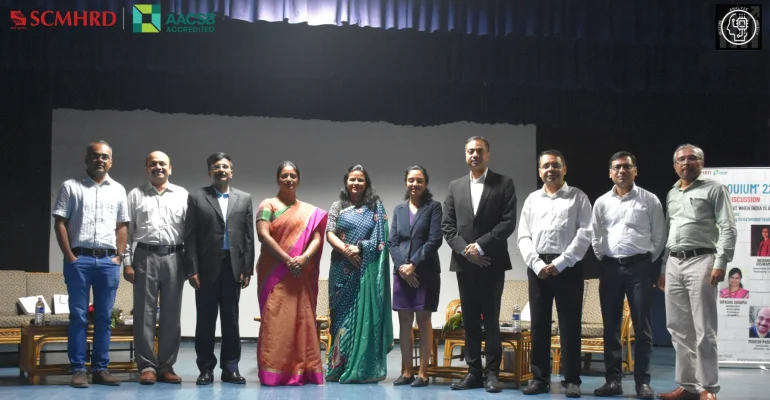 The Analytics Club of SCMHRD hosted its flagship event, Colloquium 2022 from Dec 15th 2022 to Dec 17th 2022.
The theme for Colloquium'22 was  'The Future of Management when India is at 100'. The event was inaugurated by Dr. K. Rajagopal, Deputy Director, SCMHRD and started with words of wisdom by Dr. Netra Neelam, Director, SCMHRD.
On 15th December 2022 we had a guest lecture by Dr. Subhajit Bose, Head of Data, Strategy & Analytics, Adani Group where the speaker talked about how technology has started to pay a pivotal role in management decisions. Earlier, managers relied solely on their experiences but now AI & ML can codify the rational, predictable processes.
On 16th December 2022, the panel discussion on 'Data over Impulses in management decisions' was graced by Mr. Prakash Shetty, Head of Data and Analytics, VP, Accenture, Mr. Abhay Maheshwari, Chief of Staff Strategy & Ops Retail & CPG, ZS, Mr. Chetan Dixit, Director- Data Platform, VISA and Mr. Anish Chowdhary, Business Head, Retail Digital Bank, Yes Bank. The session was moderated by Dr. Gauri Joshi, Assistant Professor, SCMHRD, Pune. The discussion highlighted how data improves decision-making. We heard how companies have to incentivize consumers to give their data upfront. Achieving clean data is difficult, and we should thoroughly understand data lineage and pipelines. We learned a new concept called Dark Data and how companies must utilize their data fully. The cost of bad data & its implications was also highlighted.
On 17th December 2022, we had Mr.Paritosh Anand, Senior VP & Head- Digital Platforms, Reliance Industries, Ms. Indrani Goswami, Associate Director, Razorpay Capital, Mr. Vartul Mittal, Head- Intelligent Automation Solutions, Sutherland and Mr. Mahesh Padoshi, Associate Director, J&J for our panel discussion on 'Data-driven marketing in extended reality'. The session was moderated by Dr. Dipasha Sharma, Associate Professor, SCMHRD, Pune. The discussion highlighted that the fundamentals of marketing would remain, and the digital infrastructure would enhance the consumer experience. Data is the backbone of decision-making. The students should fall in love with the problem and be problem solvers. Recognize your consumer's stated and latent needs and make solution delivery as easy as possible in the extended reality.
We were honoured to host such dignitaries and eminent guests who shared their valuable knowledge and experience with the students of SCMHRD, highlighting the significance of analytics in today's dynamic business world.